WARNING! - This "Wikia" contains unmarked spoilers from the series! Read at your own risk!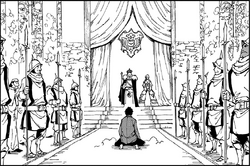 O, HERO!
When Kazuya Souma is unexpectedly transported to another world, he knows the people expect a hero. But Souma's idea of heroism is more practical than most–he wants to rebuild the flagging economy of the new land he's found himself in! Betrothed to the princess and abruptly planted on the throne, this realist hero must gather talented people to help him get the country back on its feet–not through war, or adventure, but with administrative reform!
Liscia Elfrieden
---
Liscia Elfrieden (リーシア・エルフリーデン, Rīshia Erufurīden) is the princess of Elfrieden, the daughter of the previous king, "Albert Elfrieden", and the first primary queen of Freidonia as the tentative fiancée of "Kazuya Souma".
---
The optimal visual and social experience on this wiki is available with a FREE personal Wikia account.
There are other editors who can improve what you contribute - don't be afraid to jump in and start it!
The community portal describing the community's projects are a must-read.
If you have trouble getting started and are new to collaborative editing, check the wiki tutorial.
The expansion of article stubs, maintenance of articles and creation of wanted pages is helpful.
Official Channel
The Genjitsu Shugi Yuusha no Oukoku Saikenki Wiki has its own official
Discord
server. Click on the icon to join us or connect using the server.
Community content is available under
CC-BY-SA
unless otherwise noted.